Unrivaled Security. Powerful Administrator controls. Flexible file transfer.
 
How secure is your data?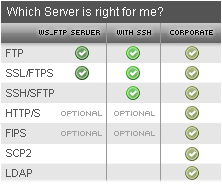 Every day, businesses large and small depend on the exchange of ideas and information among employees, partners, and consumers. That data is often highly sensitive, ranging from sales information, health records, and credit card information to earnings statements and intellectual property. To protect this data and provide critical file transfer capabilities, administrators need to make company information available to employees while preventing access to unauthorized users.
The Ipswitch WS_FTP Server suite of secure file transfer solutions deliver the industry's highest security to help businesses protect the confidentiality and integrity of their data. The WS_FTP Server solutions give you powerful administrative control, event-driven automation, auditing and compliance logging, and browser-based file transfer capabilities – everything you need to manage your critical data and keep your business running smoothly.
 
WS_FTP Server is the leading secure file transfer solution for businesses around the globe. Whether you have basic file transfer needs or require more sophisticated capabilities, deployment flexibility, or security features to safeguard your most critical data, we have a solution that's right for you.
WS_FTP Server is used globally to support millions of end users and transfer billions of files and petabytes of data. It is designed to integrate smoothly into a company's existing architecture and support an unlimited number of concurrent user connections, scaling to support businesses of any size. It's the ideal solution when you have many users of different types transferring data within your organization and with outside partners and vendors.
WS_FTP Server solutions are easy to use and implement, quickly enabling network administrators to:
Deliver complete security
Take advantage of powerful administrator tools
Meet compliance requirements
Provide a flexible file transfer solution 
 
WS_FTP Server solutions work seamlessly with the desktop file transfer client of your choice. However, when combined with our award-winning WS_FTP Professional software, WS_FTP Server delivers optimized performance and security.
Browser-based file transfer functionality is also available for end users and simplifies the process of moving and sharing files with a zero-footprint, no-download browser interface. The WS_FTP Server Web Transfer Module works with today's top browsers and from multiple operating systems such as Windows, Unix, Linux, and Macintosh. This means that employees and external business partners can use the convenience of Web browsers to connect to company networks and share files and data – quickly, easily, and securely.
And with our FIPS 140-2 validated cryptography, you can rest assured that you're meeting industry's highest possible security standard.
Industry-leading security. Powerful administrator controls. Flexible file transfer. WS_FTP Server delivers all of this and more – providing a proven, secure, and scalable solution that is right for you..
Why SSH?
SSH is the world's fastest-growing file transfer protocol. More secure and robust than basic FTP and SSL connections, SSH automatically delivers encrypted communications during and throughout file transport. Proven in stringent education and government/military environments, SSH is supported by most operating systems (including UNIX/Linux) and is firewall-friendly due to its use of a single port for uploading and downloading. The WS_FTP Server is available both with and without SSH – while both versions offer strong security, we believe that SSH represents the leading-edge of file transfer security protocols.
 
WS_FTP Server Tip
Purchasing more than one WS_FTP Server solution is the best way to optimize the performance of your server farm. With multiple WS_FTP Server solutions, it's easy to maintain a redundant, balanced, and highly available file transfer server solution.